Reports > SUMMER RACING CARNIVAL CASTLE COMBE JUNE 19/20 2010
Good finishes in Fords and GTs but no podiums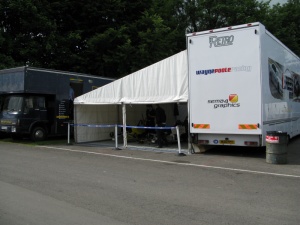 For one of Combe's busiest meetings of the year paddock space was at a premium but the 'two truck' WPR operation (pictured right) managed to secure a prime location from which to run its three formula fords and two GTs. With Olly Bull's Swift still undergoing repairs it was left to Ash Clifford (Mygale SJ03), Pete Diccox and an improving Darren Houldcroft (both Class C Van Diemen RF89 and 88 respectively) to represent the team in the FF races on Saturday and Sunday.
The single qualifying session saw Ash in twelth place with a 1m 13.1s after the team raised the rear ride height a little and considering the lack of pre race testing this was a good effort. Ash is now only about 1 sec off the pace of the Class A pack ahead of him and is this will close up with more race miles under his belt. Pete's clutch failed before he was able to set a time so the team decided to put his rebuilt Philspeed spare engine back in for the race. Darren qualified 25th but was hoping for better things in the race.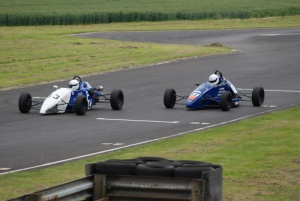 The organisers were persuaded to let Pete start the race from the back of the grid rather than the pit lane so as the field lined up for the start he was able to pick out the best line through the traffic ahead of him. So as the lights went out (we're being polite here!) Pete carved through the back rows and had gained three places by Avon Rise and three more by the end of the lap! However, as the race went on Pete tired a little allowing the others including Darren to catch up and get past. A spin by Darren near the end allowed Pete to close up and as they were being lapped by a squabbling bunch of the leaders they were running sided by side past the pits. Team boss Wayne Poole insisted that there were no team orders (!) in place so it was a determined Houldcroft who hung on to the place. Ash enjoyed a brief battle with Luke Cooper (see left) at the start of the race but therefater had a rather lonely run into 10th place.
Sunday's grid was determined by the finishing order the previous day so Ash lined up on row 5 (his best starting position to date) while Pete and Darren lined up together on row 10. Ash made a good start and arrived at Quarry in the middle of a jostling pack when contact between some cars ahead of him left him with no time or space to take avoiding action and he ended up riding over someone's front wheel and launched briefly before coming to rest with a couple of corners damaged. A really disappointing end to a race which promised much. Pete made another of his lightning start but again dropped back a little during the race but was pleased to post a 1m 17.66s on his last lap. Half way through the race Darren noticed smoke coming from the engine cover but pressed on only to have a spin on the last lap at Tower, perhaps some oil had got on to his tyres.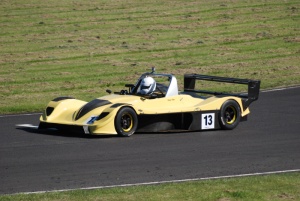 In the GTs Guy Parr (Nemesis 02 pictured right) qaulified an excellent fourth with a 1m 05.82s lap with Des Andrews (Radical SR3) in eighth so hopes were high for some good results. However, with few retirements both drivers had largely uneventful races maintaining their grid positions to the end.