Reports > DUNLOP MOTORSPORT FESTIVAL CASTLE COMBE JULY 17/18 2010
A quiet week-end for the team at Combe but Chris Bennett takes a Class Sprint win at Llandow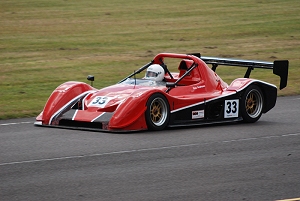 With team boss Wayne Poole unable to attend the team was in the capable hands of Lynn Poole and Tom Margetson once again. As is customary in mid summer there were fewer drivers out than usual with Pete Diccox and Steve Bracegirdle in their Class C Van Diemens and for the GT race on the Sunday BARC's Guy Woodward was guesting in the Radical SR3, normally driven by Des Andrews, along with Guy Parr in his Nemesis. Pre race testing on the Thursday had gone well with Steve very pleased to get into the 1m 17s and Guy (pictured right) getting to grips with the fast Radical.
The FFs were down to race on the Saturday and in practice Pete qualified just ahead of Steve with a good 1m 18.7s after struggling to get below 1m 19s during testing - the extra pulls on the rowing machine were clearly paying off! In the race Pete made another of his fast starts, making up a couple of places. Both drivers had steady races with Pete finishing fourth in Class C (with a best lap of 1m 18.07s) after a tussle with Mike Madge's Vector and Steve (pictured left) two places back but with a very encouraging best lap of 1m 17.67s.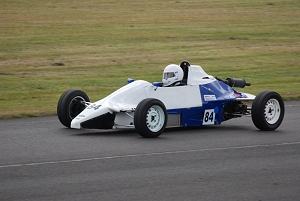 Practice for the Sunday GT race was made more difficult with light rain appearing at the start. Guy Woodward chose wets and qualified the Radical an excellent fourth overall putting his experience to good use as the rain intensified while Guy Parr had chosen slicks which looked a good bet until the heavier rain arrived and lined up 10th in the Nemesis. The race was a tale of two starts with Parr making a storming getaway to finish Lap 1 in third place but Woodward did the opposite, stalling on the start line and falling back to 11th place. However, Parr's race came to a premature halt on Lap 4 after a coming together at the Esses on Lap 1 which resulted in the bodywork rubbing on a tyre. Meanwhile Woodward, with the help of the safety car bunching up the field, began picking off those ahead of him and made it up to forth place at the end and with a fastest lap quicker than anyone except the winner.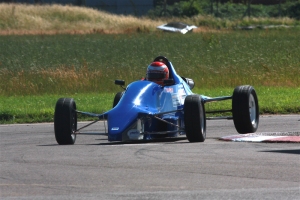 As a footnote the week-end wasn't without a win for the team as Chris Bennett in his WPR maintained Van Diemen RF89 won the Formula Ford class at the BARC Wales Llandow Sprint (pictured right) on the Saturday. This was a much appreciated result following the team's efforts to get the car repaired and ready at the Thursday Combe test.