Reports > 60th ANNIVERSARY MEETING CASTLE COMBE JULY 31/AUGUST 1 2010
Just one podium for Guy Parr and a good run for Pete Diccox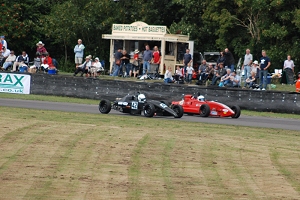 Castle Combe had assembled an enormous number of cars and races to celebrate its 60th Anniversary. Guy Woodward was again deputising for Des Andrews in the Radical SR3 which was to have races on both the Saturday and the Sunday while the Formula Fords practised on Saturday for their race on Sunday. Out in the FFs were Ash Clifford in Class A, Olly Bull making a welcome return in Class B with his Swift SC92 back in fine fettle after its recent misfortune and Pete Diccox, Steve Bracegirdle and Darren Houldcroft were entered in their Class C Van Diemens.
Pre race testing had seen Olly happy with the set up of his rebuilt Swift and Peter very encouraged to get back into the 1m 16s. Practice was a rather fraught affair with many drivers complaining about not getting a clear lap. Olly was the exception and managed a couple of clear laps posting a 1m 13.3s time which was good enough for 12th on the grid. Ash wasn't as fortunate and lined up 22nd while Steve got in a good time of 1m 17.55s which was 5th in Class C with Pete and Darren just behind. Steve's performance was particulalrly creditable as he only got in 5 laps after running wide, spinning and getting his nose run over causing a fair bit of damage to the front end.
In the race Olly dropped a couple of places at the start but quickly made them up including a nice run down the inside of Geoff Janes' Class A Van Diemen at Quarry (pictured above right) and acheived his goal of completing a trouble free race and finally finishing 10th. Ash began picking up places from his mid field start but his engine unexpectedly cut out on Lap 5 and he had to park it by the Esses. Pete made yet another of his cracking starts and spent most of the race locked in a tight battle with three other cars including (again) the Vector of Mike Madge. After a brave run round the outside of Madge at Qaurry (pictured left) a lap previously the pair crested the rise into Quarry, all but touched and both spinning. Pete gathered it all up without losing much time a continued his strong race to come home 22nd and fourth in Class C. Steve and Darren both suffered fromother people's mishaps and a safety car with Steve finishing 27th and Darren classified as a DNF after losing a lot of time in the SC period.
The GTs had a single qualifying session on Saturday with Guy qualifying a respectable 7th. In the race Guy was turned around and t-boned resulting in bodywork damage and a broken starter which resulted in his retirement on lap 7. In race 2 on the Sunday, starting at the back of the grid, Guy worked his way quickly through the backmarkers to finish well in the top half of the field in 11th place.