Reports > GRAND FINALS DAY CASTLE COMBE 2ND OCT 2010
Wins for Guy Parr & Steve Bracegirdle and a podium for Pete Diccox
The Formula Fords and GTs were to get two races each as it was both the FF Carnival and open races were being run for a number of classes including GTs. Pete Diccox, Steve Bracegirdle, Darren Houldcroft and Andy Steele (having his first race) in their Van Diemens were up for the Castle Combe FF race with Olly Bull joining them in his Swift SC92 for the Carnival. Des Andrews was down to join Guy Parr (fresh from his first win at Anglesey in his Nemesis) in the GTs but clutch problems in pre race testing on the Thursday ruled him out.
Practice started damp but progressively dried out as the morning wore on. Notable performances included Darren (2nd in Class C) and Andy (26th and with 5 cars behind him) in the first FF race, Guy (3rd & 2nd in the two GT races) and Steve who qualified 2nd of the Class C cars for the FF Carnival.
The first FF race was all about the start with Pete making one of his usual 'demon' get aways to finish the first lap third in class and just behind the second place man. Pete maintained his good pace (helped by a safety car period to get his breath back) to stay in contention for 2nd right to the end finally finishing in a well deserved 3rd (pictured above left) only a few seconds adrift. Meanwhile Darren and Steve were closing in on Pete, swapping places, until a puncture robbed Darren of a good finish. Andy played it safe in his first race, dropping back to the tail of the field but staying in touch with the group in front.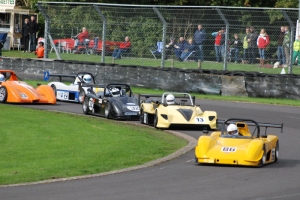 In the first GT race Guy made a cracking start to take second by Quarry (pictured right #13) which he held for 6 laps under intense pressure before falling back to take third overall and second in class. The second GT race was even better for Guy who, despite a poor start (fourth on Lap 1), quickly got past the three cars in front of him to take a comfortable win.
It was beginning to get dark by the time the FFs assembled for the season finale, the Carnival. Olly Bull made a reasonable start and had a competitive run (fastest lap in Class B) to move up the order and finish 9th. Another good start from Pete came to nought when a broken exhaust casued his retirement while running competitively in mid field. Poor Darren had another puncture - what are the odds against two punctures in consecutive races? Andy was going well (a best lap of a promising 1m 18.175s) and doing his best to stay out of trouble until his front wheel was clipped by one of the leaders as he was being lapped. After bouncing over the grass Andy pulled off fearing his suspension was out of line. Although docked 10s for an over enthusiastic start, Steve kept out of trouble and by lapping consistently and taking advantage of a couple of retirements came home 16th and took his first Class C win much to his delight.
Pictured below are Pete, Steve and Darren line astern in race 1 (left) and Andy (right) in their Van Diemens.