Reports > EASTER MONDAY RACEDAY CASTLE COMBE APRIL 5TH 2010
A podium for Guy Parr and some good runs in a day of mixed fortunes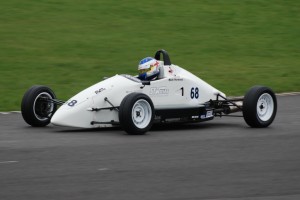 Following plenty of pre season testing at both private and public test days the WPR team were at full strength for the season opener at Combe on Easter Monday with six Formula Fords and two GTs to keep Wayne, Lynn, Tom, Andy, Rob and the rest of the team very busy.
Testing had seen Ash Clifford getting some miles under his belt in the ex Josh Fisher Mygale SJ03, Matt Horwood doing a lot of set up work starting from scratch, Olly Bull trying different settings to find the right balance, Darren Houldcroft finding a lot more speed (in the 1m 16s) and newcomer Steve Bracegirdle familiarising himself with both car and track. Pete Diccox was back for another season in his familiar white Van Diemen RF89 while Bull and Horwood both had new Philspeed motors.
In the GT category Guy Parr (Nemesis GT) and Des Andrews(Radical SR3) had both been setting promising testing times with Guy getting into the 1m 07s and looking forward to competitive seasons.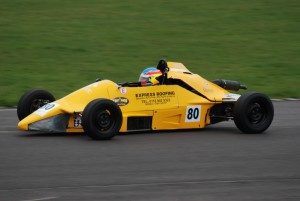 Practice went well with only a few minor niggles. Matt Horwood (#68 pictured right) was late out in his Mygale SJ00 after a broken wheel stud was discovered at the last minute but this didn't prevent him from becoming the team's best qualifier in 6th place with a 1m 14.5s lap. The conditions were cool and made more difficult by an oily track and a safety car period which made getting a clear lap a bit of a lottery. Despite a lurid spin at Camp Darren Houldcroft (#80 pictured left) put in his best practice to date in his Van Diemen RF88 to line up 4th in Class C. This could have been better but for some loose bodywork at the end of the session which Darren reckoned must have cost him at least 2 seconds (!)
Olly Bull was held back by a mid range misfire which was put down to something in the carburettor and hard working mechanic/Dad Bob was hopeful had been cured for the race. Olly still managed to qualify 4th in Class B. Ash Clifford finished practice in 22nd but wasn't too worried as he was running quite old tyres for this race and was concentrating on settling down with the car.
Pete Diccox and Steve Bracegirdle both had uneventful practices to line up 32nd and 34th on the 35 car field. In the GTs both Guy and Des practiced strongly in 5th and 8th places respectively.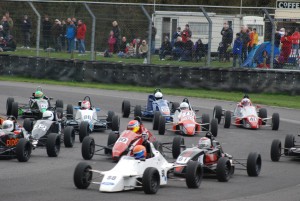 In the FF race good starts were made by most of the WPR drivers and in the opening laps, Matt and Ash were each under a lot of pressure as they were leading packs of competitive cars. Both withstood the pressure for many laps until dropping back to have individual battles. Matt (struggling with oversteer) with Felix Fisher and Ash (struggling with his old tyres) with Roger Orgee. The unlucky Olly Bull had a throttle cable break in his Swift SC92 early on in the race after a good start while Darren was running well until another lurid spin (this time at Quarry!) dropped him back. Pictured right are Olly (42) and Ash (82) on the first lap.
At the end Matt and Ash weren't too disatisfied with 8th and 13th and nor was Pete Diccox in 22nd (4th in Class C). Darren finished 25th and Steve Bracegirdle (#84 pictured left during practice) was ecstatic (judging by the arm waving on the slowing down lap!) to have finished his first race and in the penultimate place.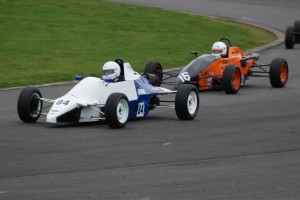 In the GT race Guy Parr made a cracking start to get up to third place place which he held until the end to score an excellent podium. Des Andrews also finished the race in an encouraging 11th place.