News > WPR enter Saloon car racing!
29/10/2010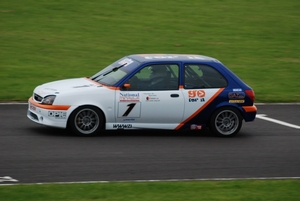 In an exciting new development Wayne Poole Racing will be running Guy Parr in Saloon car races very soon. Guy will be entering his ex Jason Cooper (previously Castle Combe Saloon champion and current class record holder) Ford Fiesta in the WHT meeting and the 2011 Castle Combe Saloon car championship.
Guy has already tested the car at Llandow and Combe (pictured) in order to familiarise himself with front wheel drive and radial tyre handling. The car runs a 1.6 Sandy Brown Zetec motor and should be quickly on the pace.