News > 2018 early season round up
30/03/2018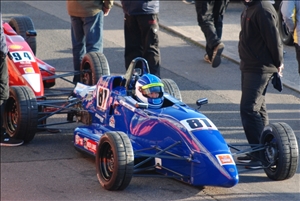 The WPR team had their first 2018 outing at Oulton Park on March 24th with Ray Smith & Wayne Poole (Van Diemen TF88s) and Steve Bracegirdle (RF89) in the Pre '90 Formula Ford races. All three drivers were a bit 'rusty' but Ray qualified well, second in Class. In Race 1 Wayne made a good start to get up into second place which he held to the finish while Ray had an off on the penultimate lap and Steve managed to finish on the lead lap.
In Race 2 Wayne again spent the entire race in second place. Ray, starting from the rear of the grid, got tangled with the back markers and retired on Lap 4 while Steve improved to finish seventh and fifth in Class.
Next it was to Silverstone on March 31/April 1 for the AVON Tyres National Formula Ford championship with Josh Fisher in the Hudson-Evan's Class A Van Diemen RF99. In a very strong and competitive field Josh qualified second for Race 1 and led for the first 2 laps before dropping down to seventh before recovering to finish fourth. In Race 2 Josh worked his way up to second by Lap 10 but an incident dropped him way down the field and left him to finish 16th. With fluctuating oil pressure the team decided not to take the start for Race 3.