News > WPR gets ready for the 2015 season
28/02/2015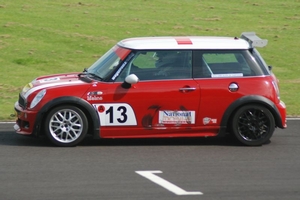 The winter wait will soon be over and the Wayne Poole Racing team are busy preparing for the new season ahead.
The driver squad will be much the same as last year but there have been a few changes in the cars they will be competing in.
First of all Steve Bracegirdle has bought the team's Mini Cooper Works and will be out in it at Castle Combe (probably at the second meeting of the year) as he alternates between his Van Diemen Formula Ford and Nemesis GT racers. Steve is also likely to take in a few Oulton Park events too.
Pete Diccox is returning for another season of Formula Ford at Castle Combe in his Van Diemen (hopefully running as number 79) where he will be joined by Josh Fisher in Richard Hudson-Evans' Reynard 89FF.
Josh will have a busy year as he will also be competing at Oulton Park in the Hudson-Evans' ex Josh Barnett Van Diemen RF99 which has been re-bodied over the winter and will appear in the familiar WPR blue.
Calum McHale has sold his Mygale and bought the ex Chris Hodgen Van Diemen RF89 which the team will run at Oulton for Calum. Joining Calum and Josh in the Oulton series will be Ray Smith and, later in the season, Don Boyack in their Van Diemens.
The Mygale SJ01/03 that has been with the WPR team for many years has been sold to Mark Sugden who is planning to run the car in the Castle Combe series.
Finally, team boss, Wayne Poole, has acquired a Van Diemen RF81 FF2000 and, if other commitments permit, he hopes to take in a couple of events.
It all kicks off with a test day at Castle Combe on April 2nd.