News > Looking ahead to another busy season
13/03/2013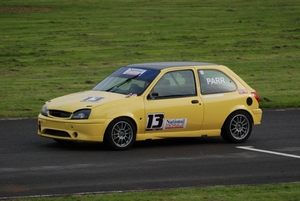 It may only be mid March but the Wayne Poole Racing team has already had its first test of the year (at an unbelievably cold Llandow!) and is looking forward to another busy season.
You can find out where the team are going to be by looking at the
Calendar Page
For the early part 2013 the familiar faces of Steve Bracegirdle, Ray Smith and Pete Diccox will out in their Formula Fords along with Steve Bracegirdle and Guy Parr in their GTs and Guy Parr's Fiesta (pictured). Team boss Wayne Poole may have an occasional outing in his own Formula Ford and the team's Mini Cooper will appear in selected saloon races with other drivers.
Finally Chris Bennett continues to campaign his Formula Ford in Sprints starting at Combe in March.