News > Testing & race news
04/10/2012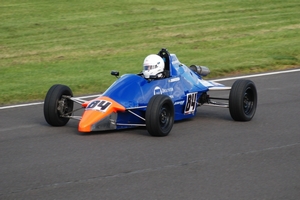 The WPR team were at Combe to-day (Thursday Oct 4th) for the final pre race test of the season ahead of the race meeting on Sunday Oct 7th. Steve Bracegirdle (pictured) was out in his Van Diemen RF88 and enjoying some dry but cool laps in the late Autumn sunshine.
A busy week-end is on the cards as Wayne and Guy Parr are taking the team's Mini Cooper to Oulton Park on the Saturday and sharing the drive in Classic Sports Car Club's 40 minute enduro.
The it's back to Combe on Sunday with Guy Parr and Des Andrews out in the GT race, Guy again in his Fiesta for the Saloon Car race and Ray Smith & Steve Bracegirdle out in their Formula Fords.