News > Richard Hudson-Evans tests at Combe
27/09/2012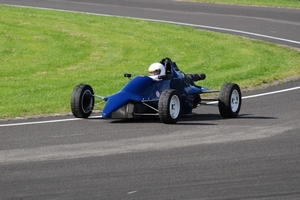 Well known journalist, presenter and classic car expert Richard Hudson-Evans brought his recently restored Van Diemen RF88 (pictured) along to Castle Combe for the WPR team to help set up and introduce him to single seater circuit driving.
The car, co-incidentally finished in the trademark WPR blue, was having its first outing in quite a while and, following an initial run in the hands of Wayne Poole, ran well throughout the day with Richard able to sample all track conditions from warm and dry through to fully wet. After another test or two Richard is intending to take in some sprints and hillclimbs in 2013.
Also joining the test were WPR regulars Steve Bracegirdle (Van Diemen RF89) and Ray Smith (Swift SC93) on what turned out to be a very quiet day with plenty of laps available to those who made the journey down to the Wiltshire track.