News > Matt Horwood makes WHT final & Steve Bracegirdle debuts his Nemesis
06/11/2011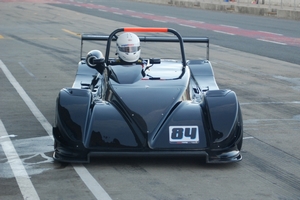 To Silverstone for the annual Walter Hayes Trophy meeting where the Wayne Poole Racing team had entered 6 Formula Fords and 3 GT cars. Hopes were high following some excellent performances in the Heats - Olly Bull's fourth, Ash Clifford's seventh and Matt Horwood's ninth (despite Matt losing fourth gear half way through!). However it was only Matt who made the final where he was disappointed not to make the finish.
In their Semi Finals Olly was hit up the back on the first lap and retired on the spot while Ash was running very strongly before he lost his gears and had to pull off on the Wellington straight. Disappointingly Steve Bracegirdle (a spin avoiding oil), Darren Houldcroft (an off at Beckets after someone turned in on him) and Don Boyack were unable to make it through from the Progression race.
Things turned out better for Steve in the GT race. Running his recently acquired Nemesis (pictured) for the first time he followed Des Andrews' Megahart home in the first race but ran more strongly in the second to reverse the positions.
Full report and photos to follow.