News > Pre season testing underway
25/03/2011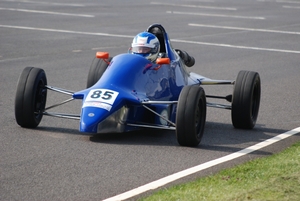 The WPR team are preparing for 2011 with even more activity than usual. With new cars, new engines, new drivers and new team members there is a lot to get ready and so march and April are seeing plenty of activity for the team.
Denise Bracegirdle (wife of driver Steve) is getting as much testing in as possible in advance of her first race at Combe at the end of April in the Van Diemen RF88 that Steve drove in 2010 while Steve will be in an RF89 for 2011. Having already tested at Silverstone, Llandow and Combe (pictured) Denise is steadily getting to grips with Formula Ford. An engine mishap at Silverstone meant a hasty rebuild and some running in.
Each with new Philspeed engines Darren Houldcroft, Steve Bracegirdle and sprinter Chris Bennett have all been running in their engines. All are happy with the performance of their new motors, culminating in a very promising 1m 14.9 s lap at Combe for Steve which bodes well for the upcoming season.
Ash Clifford has had his shocks rebuilt and in a Silverstone test improved by 1.3s over his best WHT time last November. Ash's engine is now being rebuilt and should be well prepared for the coming season.
Guy Parr was out at Silverstone but an engine problem prevented much running so while it is being repaired, has got in some track time in the team's new Mini Challenge car at Lalndow and Combe.
A gallery of photos from pre season testing will appear shortly.